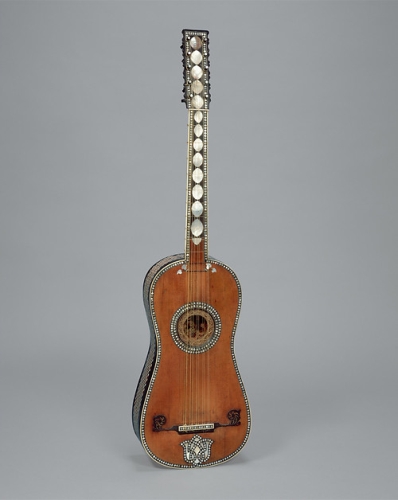 Giacomo (Jacob) Ertel (German, ca. 1646–1711)
Guitar, late 17th century
Spruce, ebony, fruitwood, bone, ivory, mother-of-pearl; 8 x 23 in. (20.3 x 58.4 cm)
The Metropolitan Museum of Art, New York, Purchase, Rogers Fund, Mrs. Peter Nicholas, University of Chicago Club of New York, Mrs. Henry J. Heinz II and Lowell S. Smith and Sally Sanford Gifts, The Crosby Brown Collection of Musical Instruments, by exchange, and funds from various donors, 1984 (1984.225)
The back and sides of this guitar are decorated with checkerboard patterns of bone, ebony, and fruitwood that continue up the back of the neck. The peghead, fingerboard, and top are inlaid with mother-of-pearl. Formerly converted to a six-string guitar, this instrument was later restored to its original five-course configuration.
Related Link
---
Heilbrunn Timeline of Art History: "The Guitar"