Resources like Google Images and the Met's Collection Database provide instant access to images of a vast array of objects. But before photography—not to mention the Internet—audiences relied on prints to see images of contemporary and historical works of art. In fact, many of the paintings in American Stories also exist as prints, sometimes in thousands of impressions. In today's post, I'll consider how some of the works in the exhibition entered into the broader consciousness through a variety of printed forms.
One of the earliest paintings in American Stories to be translated into a mezzotint shortly after its completion is John Singleton Copley's Watson and the Shark, shown below. (See "The Printed Image in the West: Mezzotint" in the Heilbrunn Timeline of Art History to learn more about mezzotints.)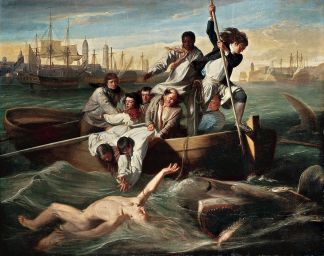 Above: John Singleton Copley (American, 1738–1815). Watson and the Shark, 1778. Oil on canvas; 71 3/4 x 90 1/2 in. (182.1 x 229.7 cm). National Gallery of Art, Washington, D.C., Ferdinand Lammot Belin Fund (1963.6.1). Image courtesy of the Board of Trustees, National Gallery of Art, Washington, D.C.
Copley exhibited his work at London's Royal Academy in 1778, where it was met with critical acclaim. The mezzotint after the painting, engraved by the noted printmaker Valentine Green and called A Youth Rescued from a Shark (The British Museum), appeared the following year. Green's skills were widely acknowledged during his lifetime; he became mezzotint engraver to King George III in 1773 and was elected to the Royal Academy as one of only six associate engravers in 1775. Green's interpretation of Copley's painting remains faithful to the original canvas, but his deft handling of the water's translucency and convincing glimpse of Brook Watson's body through the waves also make the print a work of art in itself. The fact that one of Britain's best mezzotint makers created an exquisite print after Copley's painting suggests the high regard that Londoners had for the canvas. The inscription in the lower margin of the mezzotint, which appears in both English and French, also indicates a desire to show continental audiences the best of what London's artists had to offer.
Green engraved on copper plates, which become worn with continued use, and he often limited the number of impressions drawn from them in order to control the quality of the final prints. In the nineteenth century, printmakers aiming at mass markets turned to engraving on steel in order increase the number of impressions their plates could yield. This technique was used to create a print after George Caleb Bingham's Jolly Flatboatmen, of which about ten thousand impressions—including this one—were made:
Above, from left to right: George Caleb Bingham (American, 1811–1879). The Jolly Flatboatmen, 1846. Oil on canvas; 38 1/8 x 48 1/2 in. (96.8 x 123.2 cm). Manoogian Collection; Thomas Doney (b. France; active in New York City 1844–1849), engraver; The Jolly Flatboatmen, 1847. Published by American Art-Union; Printed by Powell and Company American; Steel engraving; 21 1/2 x 26 1/2 in. (54.6 x 67.3 cm). The Metropolitan Museum of Art, New York, Gertrude and Thomas Jefferson Mumford Collection, Gift of Dorothy Quick Mayer, 1942 (42.119.68).
The print was distributed by the American Art-Union, a New York organization that collected and exhibited art and encouraged the development of an American school of painting. Annual membership to the Art-Union cost about five dollars, and benefits included at least one print after a work of art in its collection. Members also received a chance to win an original painting. The Jolly Flatboatmen, purchased by the Art-Union in 1846, was engraved by the French émigré Thomas Doney and distributed as the annual print in 1847. Although the engraving plate was made of steel, Doney had to retouch it to extend its life during the printing process to accommodate the more-than-anticipated number of members. In spite of the delays in creating and mailing the engraving, it was well received, and it helped to establish The Jolly Flatboatmen as one of the most recognizable works of everyday American life in the nineteenth century.
In 1851, Richard Caton Woodville's War News from Mexico was engraved and distributed to Art-Union Members as Mexican News (The Library of Congress). In light of the demand for engravings of contemporary American works, rival art unions and publishing firms distributed prints as well. For instance, the Paris-based firm of Goupil, Vibert & Co. issued six lithographs that reproduced paintings by William Sidney Mount, including a version of The Power of Music (The Library of Congress).  (See an image of the painting.) As in the case of A Youth Rescued from a Shark, the series of Mount prints was aimed at European audiences who desired glimpses of American life. (See also "Lithography in the Nineteenth Century" in the Heilbrunn Timeline of Art History.)
Later in the nineteenth century, many painters, including Winslow Homer, had a more direct involvement in printmaking. Between 1857 and 1873, Homer designed illustrations for prominent periodicals such as Harper's Weekly. During this time, magazine illustrations typically originated from wood engravings, which were faster and more economical to produce than metal-plate engravings. As an illustrator, Homer provided the designs for prints, sometimes drawing directly onto the prepared surface of the wooden printing matrix, which then would have been incised by a single carver, or sometimes even a team of carvers to speed the process. While many of Homer's illustrations were independent works, some periodicals published prints after his paintings. Take, for example, the wood engraving High Tide, which reproduces Eagle Head, Manchester, Massachusetts (High Tide):
Above, from left to right: Winslow Homer (American, 1836–1910). Eagle Head, Manchester, Massachusetts (High Tide), 1870. Oil on canvas; 26 x 38 in. (66 x 96.5 cm). The Metropolitan Museum of Art, New York, Gift of Mrs. William F. Milton, 1923 (23.77.2). Photograph © The Metropolitan Museum of Art; High Tide, 1870. Wood engraving; sheet: 10 1/2 x 14 7/16 in. (26.6 x 36.7 cm); plate: 9 3/16 x 12 1/16 in. (23.4 x 30.7 cm). The Metropolitan Museum of Art, New York, Harris Brisbane Dick Fund, 1930 (30.75.1(1)).
The wood engraving appeared in the August 6, 1870, edition of the illustrated literary journal Every Saturday. Scholars disagree on the level of involvement that Homer had in designing the print, and it's interesting to note how it differs from the painting. The figures in the print appear larger and are more legible against the simplified horizon, and the seated figure has a more straightforward, bemused expression than her painted counterpart. In addition, the girls' bare legs are covered by leggings, and a bathing cap substitutes for the agitated dog. Whether made by Homer or by another designer, these changes tone down the painting's aggressive and potentially indecorous elements, rendering it more suitable for a family-oriented publication.
Mary Cassatt was also an accomplished painter and graphic artist, but, unlike Homer—who designed but didn't engrave—she was adept at engraving, etching, and aquatint. Perhaps as a result, the relationships between her printed and painted works are often more complex than the examples discussed above. Take for instance, the case of Young Mother Sewing: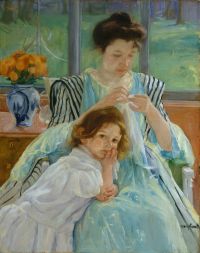 Above: Mary Cassatt (American, 1844–1926). Young Mother Sewing, 1900. Oil on canvas; 36 3/8 x 29 in. (92.4 x 73.7 cm). The Metropolitan Museum of Art, New York, H. O. Havemeyer Collection, Bequest of Mrs. H. O. Havemeyer, 1929 (29.100.48). Photograph © The Metropolitan Museum of Art.
Cassatt continued to explore the theme seen here—a young child leaning against her mother—in a series of drypoint engravings made in the years just after the completion of this painting. (See "The Printed Image in the West: Drypoint" in the Heilbrunn Timeline of Art History for more about this technique.) Impressions of two related drypoints—called Jeanette Leaning against Her Mother and Reine Leaning on a Sofa—are in the collection of the Cleveland Museum of Art, and another, entitled The Crocheting Lesson (Art Resource), is housed at the Victoria and Albert Museum in London. Drypoint plates yield only a handful of good impressions, so Cassatt's aim was not mass distribution, but perhaps to develop in print ideas she had begun in paint.
Prints tell us not only about how past audiences experienced works of contemporary art, but also, at least in some instances, about how artists responded to and modified their own work. Several additional artists featured in American Stories (such as Francis William Edmonds, Frederic Remington, and John Sloan) had their ideas translated into prints. I encourage you to keep looking for examples; the rewards, like prints themselves, will only multiply.
—Katie Steiner
Tags: American_Art_Union, drypoint, George_Caleb_Bingham, John_Singleton_Copley, lithograph, Mary_Cassatt, mezzotint, print, Richard_Caton_Woodville, Thomas_Doney, Valentine_Green, William_Sidney_Mount, Winslow_Homer