American Stories closed Sunday, January 24, 2010, but the exhibition's conclusion provides an opportunity to consider how storytelling continued to evolve in American visual media after 1915. Narratives about everyday life appeared in paintings by artists such as Edward Hopper, and, most notably, in the work of Regionalist painters such as Thomas Hart Benton and Grant Wood. However, with the spread of European modernism, particularly after the seminal 1913 Armory show in New York, many painters began turning from representational to abstract styles. As the emphasis on narrative decreased in painting, film emerged as an important medium for storytelling in America. Motion pictures and painting are closely linked, and in American Stories, we find several late-nineteenth- and early-twentieth-century works that offer a glimpse at the connections between the two media.
In order to explore the impact of early "moving pictures" on painting, it's best to begin with Thomas Eakins, whose work Swimming is featured below: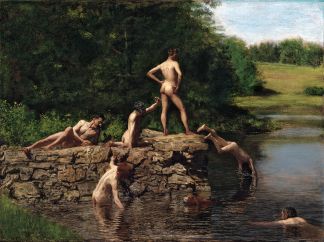 Above: Thomas Eakins (American, 1844–1916). Swimming, 1885. Oil on canvas; 27 3/8 x 36 3/8 in. (69.5 x 92.4 cm). Amon Carter Museum, Fort Worth, Texas, Purchased by the Friends of Art, Fort Worth Art Association, 1925; acquired by the Amon Carter Museum, 1990, from the Modern Art Museum of Fort Worth through grants and donations from the Amon G. Carter Foundation, the Sid W. Richardson Foundation, the Anne Burnett and Charles Tandy Foundation, Capital Cities/ABC Foundation, Fort Worth Star-Telegram, The R. D. and Joan Dale Hubbard Foundation, and the people of Fort Worth (1990.19.1).
The painting's composition encourages the viewer's eye to follow a circular path—the outstretched arm of the swimming figure points our gaze toward the red-headed figure emerging from water, who in turn leads our eye up to the lounging figure on the outcropping. We then see a kneeling figure, a standing figure, and another that is diving into the water, leading our eye back down to the swimmer. The progression of figures and poses suggests the idea of motion, as though the different stages of action represented in the painting are still frames from a film. Eakins used photography to inform his activities as a painter, and over the course of his career, he (along with his students and associates) captured hundreds of photographic images of nude models to deepen his already thorough understanding of human anatomy. During the mid-1880s, he began experimenting with motion photography, devising a special shutter that would allow him to capture the stages of a figure's movement on a single photographic plate. Here's an example of one of Eakins's photographs from the Met's collection: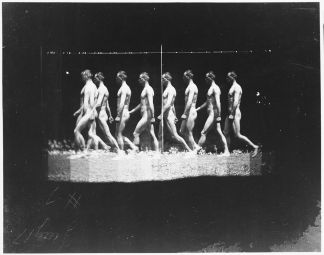 Above: Thomas Eakins (American, 1844–1916). Gelatin silver print. The Metropolitan Museum of Art, New York, Gift of Charles Bregler, 1944 (44.75.10). See the Collection Database to learn more about this work of art.
The image of episodic movement is reminiscent of the figures in Swimming and the idea of motion that they convey. It's possible to see how Eakins's attempts to capture motion on film affected his painted compositions. As a teacher, Eakins passed his interest in photography on to his students, including Thomas Anshutz, whose work often signals this influence.  See the example below: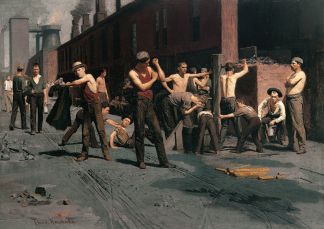 Thomas Anshutz (American, 1851–1912). The Ironworkers' Noontime, 1880. Oil on canvas; 17 x 23 7/8 in. (43.2 x 60.6 cm). Fine Arts Museums of San Francisco, Gift of Mr. and Mrs. John D. Rockefeller 3rd (1979.7.4).
Anshutz began studying with Eakins in Philadelphia in 1875 and by 1880 he was involved with photography. He would go on to assist with his teacher's motion studies, but these experiments had yet to begin when he painted his view of West Virginia factory workers. The figures, who stand in a frieze-like arrangement, convey a sense of kinetic energy through the varied poses they strike. Indeed, the serial repetition of figures in a line is reminiscent of the repetition we see in early photographic motion studies.
Anshutz's interest in conveying motion in his paintings was passed on to his student Robert Henri, who then introduced it to his own associates and pupils, including William Glackens, John Sloan, Everett Shinn, and George Bellows. Henri encouraged other artists to depict New York City life, which Bellows did in his view of a densely populated Lower East Side neighborhood, seen below: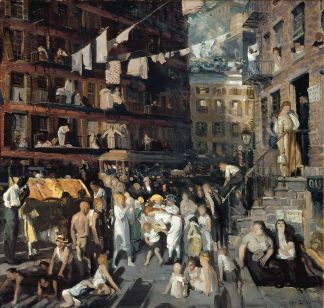 Above: George Bellows (American, 1882–1925). Cliff Dwellers, 1913. Oil on canvas; 40 1/4 x 42 1/8 in. (102.1 x 106.8 cm). Los Angeles County Museum of Art, Los Angeles County Fund (16.4). Photograph © 2009 Museum Associates / LACMA.
In Cliff Dwellers, children play, vendors sell from carts, and a streetcar inches its way through the lively throng. (For more information about Cliff Dwellers, listen to the related Met Podcast episode with Joyce Mendelsohn and Annie Polland, two historians of New York's Lower East Side.) Like Bellows's painting, early-twentieth-century films of New York City streets often emphasized the sometimes chaotic movement of the crowds that passed before the lens. (As an example, see the 1903 film by the American Mutoscope and Biograph Company called At the foot of the Flatiron, available through the Library of Congress website.) In Moving Pictures: American Art and Early Film, 1880–1910, the art historian Nancy Mowll Mathews writes that films and paintings in the early twentieth century often presented cities as living things. In Cliff Dwellers, with its emphasis on the surging, crisscrossing crowds, we see the streets of New York as a living being, which parallels the visual language of motion pictures.
In some cases, it was a painting that influenced film, rather than the other way around. Frederic Remington's Fight for the Water Hole, for example, depicts a fictional dramatic moment, as cowboys defend a precious water source from enemies on horseback in the background: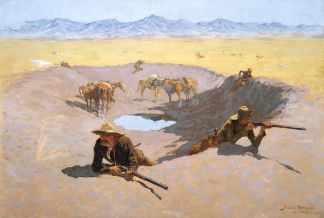 Above: Frederic Remington (American, 1861–1909). Fight for the Water Hole, 1903. Oil on canvas; 27 1/4 x 40 1/8 in. (69.2 x 102 cm). The Museum of Fine Arts, Houston, The Hogg Brothers Collection, gift of Miss Ima Hogg (43.25).
The inherent drama of many of Remington's works, which were often reproduced and widely circulated, went on to inspire directors of early Hollywood westerns, like John Ford. Fight for the Water Hole had a particularly concrete impact on film, appearing as an image in a 1920 silent movie called The Mollycoddle. (Our thanks to Jim Hoberman, film critic for the Village Voice, for bringing this to our attention.) In the film, a pampered American sophisticate played by Douglas Fairbanks studies a reproduction of Fight for the Water Hole, which inspires him to recapture a more rugged masculinity.
It has been a pleasure for me to investigate just a few of the myriad stories told by the paintings in American Stories. This is my final post, but the blog and the special feature will remain online for those who'd like to revisit the more than one hundred iconic paintings that were included in galleries. For those of you who are able, I invite and encourage you to visit the exhibition at its next venue, the Los Angeles County Museum of Art, where it will be on view from February 28 to May 23, 2010.
—Katie Steiner
Tags: Everett_Shinn, Frederic_Remington, George_Bellows, Grant_Wood, John_Sloan, Thomas_Anshutz, Thomas_Eakins, Thomas_Hart_Benton, William_Glackens