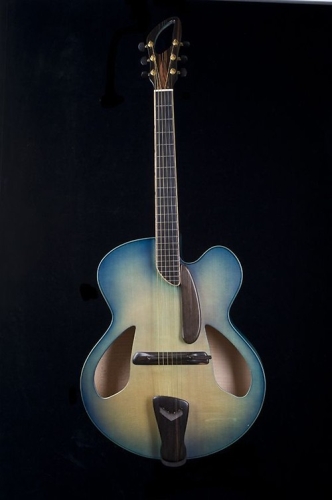 James D'Aquisto (American, 1935–1995)
Archtop Guitar, Advance model (serial number 1255), 1994
Spruce, maple, ebony; sunburst finish (blonde to blue), cutaway; W. 17 in. (43.2 cm)
Private Collection
Photo © Archtop History, Inc. from the book ARCHTOP GUITARS: The Journey from Cremona to New York by Rudy Pensa and Vincent Ricardel
The Advance was the last model introduced by D'Aquisto, and only this example was made, for Scott Chinery. In addition to features that it shares with other late D'Aquisto guitars—wood bridge, tailpiece, pickguard, and bindings and a large cut out in the headstock—it also incorporates several other innovative ideas. The sound holes can be opened and closed to create tonal differences, and the tailpiece adjusts in order to allow easy changing of the string length and break-angle of the strings.
Related Interview
---
John Monteleone discusses knowing James D'Aquisto