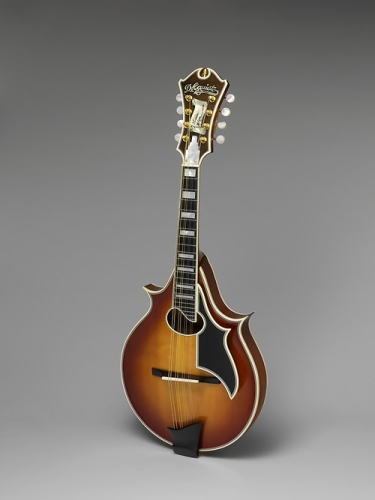 James D'Aquisto (American, 1935–1995)
Archtop Mandolin (serial number 101), 1971
Spruce, maple, ebony, celluloid, mother-of-pearl; sunburst finish; L. 22 7/8 in. (58.1 cm)
The Metropolitan Museum of Art, New York, Purchase, Amati Gifts, 2008 (2008.70)
D'Aquisto built only three mandolins, of which this is the earliest. The instrument cracked on the top during construction, so he made a second instrument for the customer, Lydia Merriman (whose name appears on both examples). He always intended to return to this instrument and fix it, and after his death in 1995, an unknown luthier completed it, using generic parts. In 2008 John Monteleone restored it by making appropriate parts based on those found on D'Aquisto's other mandolins.
Related Performances
---


Barry Mitterhoff and Woody Mann play "Vicksburg Stomp," by Charlie McCoy, Mississippi Mud Steppers, 1930, on a 1971 archtop mandolin (Mitterhoff) and an Excel archtop guitar, ca. 1985 (Mann) by James D'Aquisto. Recorded August 12, 2010, at The Metropolitan Museum of Art.