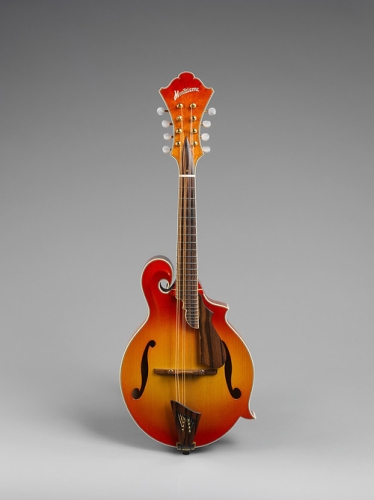 John Monteleone (American, b. 1947)
Archtop Mandolin, Grand Artist Deluxe model (serial number 185), 2002
Spruce, maple, ebony, celluloid, mother-of-pearl; sunburst finish (blonde to red); L. 28 in. (71.1 cm)
Private Collection
The mandolin family of instruments is modeled on the violin. The mandolin has double courses that are tuned like a violin (E, A, D, G); the mandola is tuned like the viola (C, G, D, A). Similarly, the mandocello is tuned an octave below the mandola, like the violoncello. A mandolin quartet is voiced like a string quartet, with two mandolins, a mandola, and a mandocello.
The Grand Artist mandolin was introduced by John Monteleone in 1977 and was a radical departure from the archtop mandolin designs that had been predominant for more than a half century. The new model retains the traditional form of an F-model Gibson mandolin with a two-point body and scroll (hollowed out on the Monteleone version). The f-holes were re-stylized, the pickguard was abbreviated, and the tailpiece and bridge were completely redesigned. At the suggestion of the eminent player David Grisman, Monteleone also added a radial fingerboard to better fit the natural curvature of a player's hands.
Related Photographs
---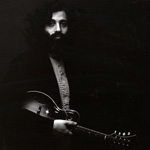 David Grisman with his John Monteleone Grand Artist mandolin, about 1980
Related Interview
---
John Monteleone discusses his innovations to the mandolin (Transcript)