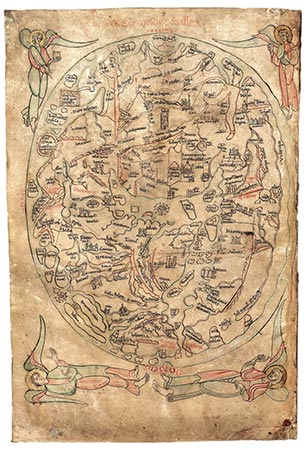 Above: The Sawley Map (detail). From the Imago mundi by Honorius Augustodunensis. England, probably Durham, ca. 1190. Corpus Christi College, Cambridge, MS 66, Part 1.
Today, we look at maps to help us get somewhere, or to show us geological or geographic features of a place. In the Middle Ages, some maps were certainly drawn for the same purpose. One example, a famous atlas created by the Islamic cartographer Il-Idrisi for the Norman king Roger II in Sicily, includes Europe, Asia, and parts of Africa, and is often praised today for its relative accuracy. Its sixty-six sections describe countries, their principal cities, roads, borders, waterways, and mountains. (See images of a thirteenth-century copy of this map at the Biblioth??que nationale de France.)
Other maps in the Middle Ages, however, played a much different role. The Sawley Map shown above, which is on display in the current exhibition, is something else entirely. Created by a twelfth-century English monk, it was the first image in a book called the Imago Mundi (Image of the World), a kind of medieval encyclopedia. A rare early example of a detailed world map, the Sawley Map places the Mediterranean Sea at its center, Paradise at the top, and Africa and the British Isles at its edges. Contemporary cities and places appear alongside biblical ones; standing landmarks share terrain with creatures and peoples from ancient legends and popular adventure tales. The map marvelously and efficiently compresses time and space, legend and fact into a single image. It is in some ways a one-page visual pr??cis, presented in geographical terms, of the vast information contained in the encylopedia it introduces. While the Il-Idrisi map addresses the aspirations of a medieval king to look outward and to demonstrate awareness of his immediate neighbors, the Sawley Map speaks to a monk???s wishes to stay put and look inward, to locate himself???the island of Britain after all is clearly indicated on the map???within the world of books and knowledge, both ancient and biblical.
To me, the delicacy of the Sawley Map's colors and the graceful manner of the angels that guard the earth at its four corners make it one of the most fascinating drawings in the exhibition. I also love the way it defies modern expectations of what a map is and how it should function. I suppose there are people who might have trouble getting past the Sawley Map???s seeming lack of interest in charting the visible world, perhaps viewing the Il-Idrisi atlas as more ???correct??? and therefore closer to modern maps. But is that a fair assessment? Aren???t there abstract concepts that we find important to conceptualize spatially?
???Melanie Holcomb
Tags: Il-Idrisi, Imago Mundi, map, Sawley Map