Fall is an ideal time for American sports fans, as professional baseball, basketball, football, and hockey seasons overlap. It's no secret that Americans love sports, and artists are no exception. American Stories features a number of iconic paintings that depict sports and games, including Thomas Eakins's The Champion Single Sculls (Max Schmitt in a Single Scull) and Winslow Homer's view of encamped Union soldiers playing a game of quoits, or horseshoes (Pitching Quoits).
Some of the game-related canvases in the exhibition, such as William Merritt Chase's Ring Toss, depict innocent, childlike pursuits, while others show a more dangerous side of sport. Take, for instance, George Bellows's Club Night: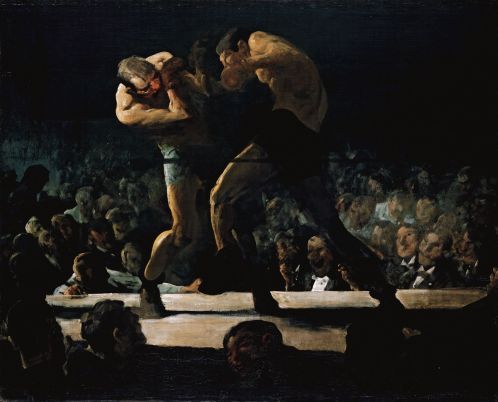 Above: George Bellows (American, 1882–1925). Club Night, 1907. Oil on canvas; 43 x 53 1/8 in. (109.2 x 135 cm). National Gallery of Art, Washington, D.C., John Hay Whitney Collection (1982.76.1). Image courtesy of the Board of Trustees, National Gallery of Art, Washington, D.C.
Two boxers engage in a violent and dramatic struggle in the ring. The setting is Sharkey's Athletic Club, which was located across Broadway from Bellows's studio in the Lincoln Arcade at Sixty-sixth Street. Bellows's painting tells a vivid tale about the club's lurid, almost hellish atmosphere and the sleazy clientele it attracted. Notice how even the well-dressed spectator framed between the legs of the fighter on the right appears grotesque.
At the time Bellows painted Club Night, prizefighting was illegal. In fact, Sharkey's is frequently mentioned in early twentieth-century New York Times articles about boxing investigations. In Club Night, Bellows includes a figure in the center foreground who looks over his shoulder at us. With this ingenious detail, he places us in the crowd, making us part of the risky business of Sharkey's and engaging us on a visceral level with the danger and excitement of the fight.
As a contrast to Bellows's painting, let's look at Homer's Croquet Scene: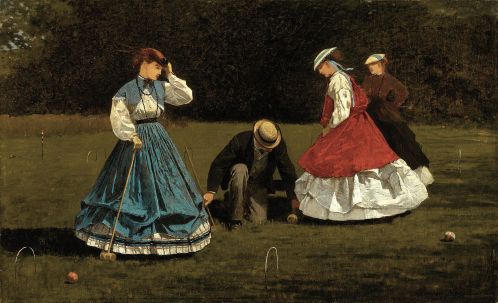 Winslow Homer (American, 1836–1910). Croquet Scene, 1866. Oil on canvas; 15 7/8 x 26 1/8 in. (40.3 x 66.2 cm). The Art Institute of Chicago, Friends of American Art Collection, Goodman Fund (1942.35). Photograph © The Art Institute of Chicago.
On the surface, we see a sunny, verdant lawn on which respectable figures play. However, if we consider the history of croquet in America, we can spot social perils—more subtle than the obvious dangers depicted in Club Night—that ripple beneath the surface of Homer's painting.
Croquet was imported from England to America in the 1860s and found almost instantly popularity. A number of texts about the sport emerged around this time, including Croquet: A Treatise and Commentary (1863) by Captain Mayne Reid, a hero of the Mexican-American War. In this book, published while the Civil War raged, Reid praised croquet as a wholesome alternative to armed conflict, but he also warned about the immoral conduct that could ensue if men and women were to play the game together.
A scene in Louisa May Alcott's Little Women (1868–69) broaches the topic of young men and women sharing the playing field. In chapter 12, the March girls' neighbor Laurie invites them to a celebration that includes the Vaughns, a group of siblings from England. The young people strike up a game of croquet in which Jo March catches Fred Vaughn breaking the rules by nudging a ball through a hoop with his foot. In retribution for being caught, Fred hits Jo's ball into the bushes. Despite her fury, Jo plays on and ultimately finds herself with a chance to win the game by knocking a Vaughn ball aside. Instead of seeking revenge, however, she declares, "Yankees have a trick of being generous to their enemies," and achieves victory by hitting her ball with a deft stroke through the hoop without disturbing her opponent's.
The scene from Little Women illustrates the benefits of good sportsmanship, even tying it to patriotism. Homer's painting signals this, too, as the women in red and blue hoop skirts stand calmly and patiently as their male friend sets up for the next player's turn. However, the position of the women—towering over the crouching man—may also hint at shifting gender roles and the potential for the playing field to become a veritable minefield of flirtatious and competitive emotions, as Captain Reid feared.
Sports buff or not, you are welcome to offer your own insights into the athletic-themed paintings in the exhibition. Feel free to get into the game!
—Katie Steiner
Tags: boxing, Club_Night, croquet, George_Bellows, horseshoes, Max_Schmitt, quoits, Ring_Toss, Sharkey's, sport, Thomas_Eakins, William_Merritt_Chase, Winslow_Homer