Part of what makes the Met so extraordinary is that it facilitates encounters among masterworks from every century and every corner of the world. This fall, visitors to the Museum can encounter under a single roof two very different exhibitions devoted to scenes of everyday American life. American Stories brings together paintings by fifty-two artists that date from the late eighteenth to the early twentieth century, while Looking In: Robert Frank's The Americans celebrates the fiftieth anniversary of the publication of The Americans, the influential suite of black-and-white photographs that Robert Frank (American, b. Switzerland, 1924) made on a cross-country road trip in 1955–56. The exhibitions explore works in different media and from different periods, and the objects and the American experiences they chronicle speak to each other in interesting and sometimes surprising ways. I recently visited both exhibitions on the same day and found a few intriguing connections.
One of the most haunting works in Looking In is Frank's photograph of passengers on a New Orleans street car: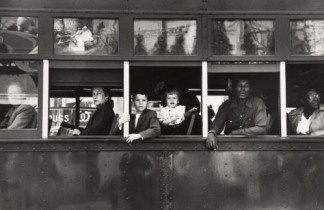 Robert Frank (American, b. Switzerland, 1924). Trolley—New Orleans, 1955. Gelatin silver print; 8 5/8 x 13 1/16 in. (21.9 x 33.2 cm). The Metropolitan Museum of Art, New York, Gilman Collection, Purchase, Ann Tenenbaum and Thomas H. Lee Gift, 2005 (2005.100.454). Photograph © Robert Frank, from The Americans.
The gallery label that accompanies this photograph discusses how it encapsulates the social tensions in the South in the mid-1950s, as evidenced by the hierarchical positions of whites, blacks, men, and women. We may hypothesize that Frank's experiences as a Jew in Europe during World War II sensitized him to marginalized members of society in America, where he emigrated in 1947. I was also fascinated to learn that Frank had been the victim of prejudice only days before he took this photograph, arrested by Arkansas authorities after he was seen making photographs, being unshaven, and driving a late-model car with New York license plates.
Frank's photograph, and his position as an outsider traveling through his newly adopted country, reminded me of Charles F. Blauvelt's painting A German Immigrant Inquiring His Way, which is included in American Stories: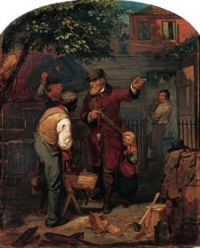 Charles Felix Blauvelt (American, 1824–1900). A German Immigrant Inquiring His Way, 1855. Oil on canvas; 36 1/8 x 29 in. (91.8 x 73.7 cm). North Carolina Museum of Art, Raleigh, Purchased with funds from the State of North Carolina (52.9.2).
This painting, which predates Frank's Trolley—New Orleans by exactly a century, also tells a story about racial tension in American society. Its narrative is seemingly simple: a white man, who the painting's title tells us is a German immigrant, interrupts the labor of a black man to ask for directions. The subtext, however, is more complex, implying how European immigrants threatened to push free African Americans out of the workforce. Unlike Frank, who is from Switzerland, Blauvelt was an "insider," born in New York City. Perhaps his upbringing as the son of a German-born father accounts for his keen awareness of the tensions caused by the incoming waves of immigrants. Clashes between racial and ethnic groups were a common fact of life in pre–Civil War New York, which suffered a host of violent riots. A reviewer in the December 1860 issue of the Cosmopolitan Art Journal commented on Blauvelt's sensitivity toward marginalized members of society, writing that the artist's "emigrants, stage-drivers, old negroes, boys, and old men, are inimitably rendered, not with anything of grossness, but with a delicacy of feeling and undertone of humor or pathos which are as refreshing as rare."
For me, the experience of encountering both A German Immigrant and Trolley—New Orleans underscored the differences between the two works. Blauvelt treats his subject with a touch of humor, as the two white figures in the background cast knowing glances toward the awkward exchange at the center of the composition. His approach seems all the more cheerful in comparison to the matter-of-fact presentation of societal inequities in Frank's photograph, which, in turn, emerged more forcefully in comparison to the painting. Blauvelt, like many of the other painters represented in American Stories, had to create works that would appeal to the open market. This practical concern may account for his more humorous approach to a difficult subject, which stands in contrast to the more documentary nature of Frank's project, which was funded by a Guggenheim Foundation grant.
When I visited both shows, I was also struck by the different treatments of rugged, Western American figures that appeared in some of the works. In the fourth section of American Stories, Cosmopolitan and Candid Stories, 1877–1915, is Charles Schreyvogel's My Bunkie: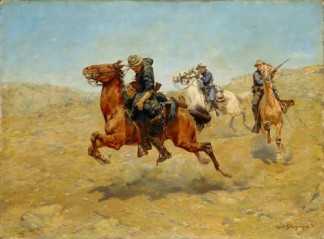 Charles Schreyvogel (American, 1861–1912). My Bunkie, 1899. Oil on canvas; 25 1/8 x 34 in. (64 x 86.4 cm). The Metropolitan Museum of Art, New York, Gift of friends of the artist, by subscription, 1912 (12.227). Photograph © The Metropolitan Museum of Art.
This painting offers a dramatic and idealized view of male heroics in the frontier, as a cavalryman on horseback rescues his bunk mate, who has lost his mount, from an unseen enemy. Compare this depiction with Frank's photograph of a cowboy on the streets of New York City: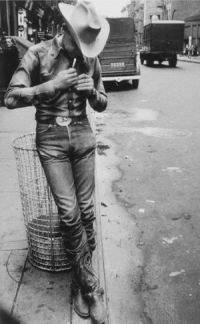 Robert Frank (American, b. Switzerland, 1924). Rodeo—New York City, 1954. Gelatin silver print; 13 1/4 x 8 3/8 in. (33.7 x 21.3 cm). Collection of Barbara and Eugene Schwartz. Photograph © Robert Frank, from The Americans.
We know from the introduction to The Americans, written by Jack Kerouac, that this cowboy is standing outside Madison Square Garden, presumably taking a break from a touring rodeo. Removed from the West and consigned to the realm of popular entertainment, the figure evocatively signals the decline of an American icon. The subverted traditions in Frank's image were easier to read after I viewed Schreyvogel's painting; similarly, the idealized Western masculinity chronicled in Schreyvogel's work was cast into higher relief when I considered it in light of Frank's photograph. Rodeo—New York City offers a glimpse of contemporary life, featuring a figure that perhaps contrasts with the expectation of viewers conditioned to more heroic imagery. While Frank's photograph may thwart fantasies, My Bunkie appeals to them, echoing the staged drama of a Buffalo Bill Wild West show to present a story about life on the vanishing frontier.
If you have the opportunity, I encourage you to visit these two special exhibitions in person and to share your insights about the experience with us.
—Katie Steiner
Tags: Charles_Felix_Blauvelt, Charles_Schreyvogel, Robert_Frank