With Thanksgiving approaching, I want to dedicate this week's post to paintings in the exhibition that feature or reference food and drink. In some examples, food appears as a symbolic element, such as in the portrait of Benjamin and Eleanor Ridgely Laming—discussed in "Old Friends in a New Light"—where the peaches resting on Mrs. Laming's lap suggest fecundity and fertility. The portrait of Paul Revere by John Singleton Copley also falls into this category, as the teapot alludes to contemporary political anxieties over the Townshend Acts and the tax on tea.
In other instances, food is referenced within scenes of familiar social rituals. Take, for example, William Merritt Chase's Open Air Breakfast and William McGregor Paxton's The Breakfast, which depict figures at their morning meal. It's interesting to note how the female figures in both pictures are excluded from the outside world: in Paxton's painting, the husband buries his head in the newspaper and the realm of external affairs, in which his dejected wife takes no part, while in Chase's painting, a large fence encloses the figures in an almost sanctified space, separating them from what lies beyond.
Above: William Merritt Chase (American, 1849–1916). The Open Air Breakfast, ca. 1887. Oil on canvas; 37 1/2 x 56 3/4 in. (95.3 x 144.1 cm). Toledo Museum of Art, Ohio, Purchased with funds from the Florence Scott Libbey Bequest in Memory of her Father, Maurice A. Scott (1953.136). Photograph © Toledo Museum of Art, 2008; William McGregor Paxton (American, 1869–1941), The Breakfast, 1911. Oil on canvas; 28 1/4 x 35 1/4 in. (71.8 x 89.5 cm). Ted Slavin.
Mary Cassatt's Lady at the Tea Table also depicts a woman confined to an interior, sitting before a handsome Japanese tea set and participating in a respectable ritual appropriate for someone of her—and, indeed, the artist's—affluent class.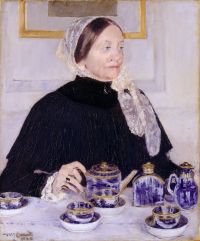 Above: Mary Cassatt (American, 1844–1926). Lady at the Tea Table, 1883–85. Oil on canvas; 29 x 24 in. (73.7 x 61 cm). The Metropolitan Museum of Art, New York, Gift of the artist, 1923 (23.101). Photograph © The Metropolitan Museum of Art.
Two food-related paintings by Lilly Martin Spencer stand in contrast to Cassatt's lady, as they work to reverse certain social expectations:
Above: Lilly Martin Spencer (American, 1822–1902). Young Husband: First Marketing, 1854. Oil on canvas; 29 1/2 x 24 3/4 in. (74.9 x 62.9 cm). Private collection; Lilly Martin Spencer (American, 1822–1902). Kiss Me and You'll Kiss the 'Lasses, 1856. Oil on canvas; 29 7/8 x 24 7/8 in. (76 x 63.3 cm). Brooklyn Museum, A. Augustus Healy Fund (70.26).
In Young Husband, Spencer presents a figure whose inexperience or enthusiasm has caused him to overload his market basket with eggs, asparagus, lettuce, tomatoes, poultry, and even a pineapple. There's so much food, in fact, that the basket's handle has split, causing some of the groceries to tumble to the ground. The overall mood of the painting is humorous, but there's conflict as well. Whether by choice or necessity, this young husband engages in a chore that traditionally would have been reserved for his wife. Although it has been noted that men in Cincinnati—where Spencer spent part of her career—commonly did the grocery shopping, the reactions of the gawking passers-by suggest that the activities of the man in the painting are unusual. Interestingly, Spencer's own marriage had nontraditional aspects. Her husband, Benjamin Rush Spencer—a tailor by trade—found himself unemployed early in their marriage and struggled to find other prospects. In view of their growing family—the couple had thirteen children, seven of whom lived to maturity—Benjamin adopted a large share of the domestic responsibilities as his wife became the chief breadwinner.
A host of luscious foods, and some interesting contrasts, are also central to Spencer's painting Kiss Me and You'll Kiss the 'Lasses. The figure, who is in the process of making preserves, playfully threatens the viewer—presumably a man—with a sticky spoonful of molasses. In a recent Met Podcast episode, the New York Times food writer Mark Bittman commented on the odd contrast that the young woman embodies, as she labors and flirts at the same time—a feat that would be difficult for most cooks to accomplish as they toil away in the kitchen. In the name of research, I recently enlisted the help of two friends to make strawberry jam, in the hopes that our experience would lend insight into the activities of Spencer's figure. Armed with a fifteen-page recipe that claimed to be easy, we embarked on our "jam session." Here are a few highlights from our experiment:
Above: Crushing the berries in the food processor; boiling the berries, with sugar; the finished product. Photographs by Alison Buchbinder, November 7, 2009.
Although we used modern appliances and a modern recipe, which called for pectin to aid the jelling process, our half batch of strawberry jam still took the three of us just under two hours to make, and left us with a sink full of dirty dishes. The finished product was delicious, but it certainly required our undivided attention and plenty of standing over boiling pots. The experience clarified for me just how unrealistic Spencer's young woman is—the absence of sweat is all the more interesting when we consider, as Mr. Bittman points out, that canning would have taken place in the heat of summer. The contrast between reality and fiction is joined by the conflict between the populist appeal of the brazen, humorous woman and Spencer's virtuosic aspirations implied by the expertly rendered still-life elements: notice the carefully observed basket of red currants on the floor, as well as the apples, pineapples, cherries, gooseberries, and raspberries on or near the worktable.
What accounts for this conflict between the romanticized depiction of the woman's labor and the "truthful," highly illusionist representation of fresh fruit? Curator Teresa Carbone at the Brooklyn Museum, which lent us the painting, recently observed that Spencer may have been responding to critics who wished to see her use her gifts to create more dignified works. A critic in The Crayon, for instance, argued in 1856 that "[b]eing a woman, [Spencer] should have some deeper, tenderer conceptions of humanity than her brother artists, something, at all events better worth her painting, and our seeing, than grinning housewives. . . . We should hope for much more from her, if she could see that it was her duty to be serious sometimes."
Seen in this light, the two paintings by Spencer suggest her simultaneous desires for commercial appeal, through humor, and critical praise, through exquisite still-life detail. The fact that her own domestic situation contrasted with mid-nineteenth-century societal norms makes the content of the two works that much more intriguing.
In the last section of the exhibition, visitors will encounter John Sloan's Chinese Restaurant, which represents a twentieth-century telling of a story about a woman, food, and gender-related conflict. On the one hand, the garishly dressed woman in this painting, who is in the midst of feeding a cat, occupies a position of control, as she solicits the male diners'—and the viewer's—attention. On the other hand, she surrenders control, presenting a performance and an appearance that are geared toward male desires.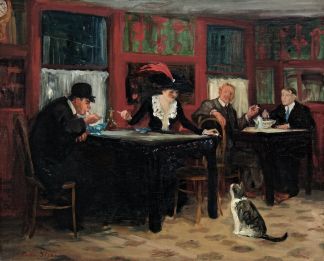 John Sloan (American, 1871–1951). Chinese Restaurant, 1909. Oil on canvas; 26 x 32 1/4 in. (66 x 81.9 cm). Memorial Art Gallery of the University of Rochester, Marion Stratton Gould Fund (51.12). Photograph: Andy Olenick. © 2009 Delaware Art Museum / Artists Rights Society (ARS), New York.
We can certainly revel in the multiple, complex layers of the food-related paintings in the exhibition, but in the meantime, I hope your holiday mirrors the abundance that many of them celebrate.
—Katie Steiner
Tags: food, John_Sloan, Lilly_Martin_Spencer, Mary_Cassatt, Teresa_Carbone, Thanksgiving, William_McGregor_Paxton, William_Merritt_Chase