Tuesday, July 15, 2008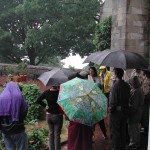 Above: A rainy Garden Day at The Cloisters, 2003. Visitors to Bonnefont Herb Garden were undaunted by the downpour.
Today, July 15, is the feast of St. Swithun, or Swithin; of all the saints' days traditionally used as weather prognosticators, St. Swithun's is the most famous and the most long-lived:
St. Swithin's day if thou dost rain,
for forty days it will remain;
St. Swithin's day if thou be fair,
for forty days 'twill rain nae mair.