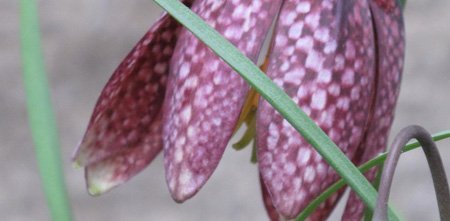 Guinea-hen flower (Fritillaria meleagris) blooming in Bonnefont garden; both the common name and the botanical name of this European flowering bulb refer to the fancied resemblance of the checkered bell to the plumage of the African guineafowl (Numidia meleagris). Photograph by Corey Eilhardt. See full image.
Of the facultie of these pleasant floures there is nothing set down in antient or later Writers, but [they] are greatly esteemed for the beautifying of our gardens, and the bosoms of the beautifull.

???"Of Turkie or Ginnie-Hen Floure" from The Herbal or Generall Historie of Plants
The English names of this curious flowering bulb were derived from the resemblance of its distinctive markings to those of the African guineafowl, imported into Europe from Turkey. John Gerard's remarks clearly indicate that he knew the plant only as a rare and choice ornamental introduced into English flower gardens, including his own. He considered their native country to be France, where he knew them to grow wild near Orleans and Lyons.
Fritillaria meleagris is a plant of damp meadows and flood plains with a very local distribution throughout northwestern Europe, from southern England to the northern Balkans, Romania, and western Russia. Although the plant forms very large colonies where conditions are ideal, its habitats have been threatened by agricultural drainage and reductions in the water table.
Now a beloved, although rare, wildflower in England, Fritillara meleagris is sometimes claimed as a native plant, although there is no firm evidence of fritillary growing in the wild there before the eighteenth century. It is much more likely to be a garden escape, naturalized in a relatively few locations. Oxfordshire is particularly rich in fritillaries, and Magdalen College Meadow is a famous site (see image).
While Gerard notes the plant was called Flos meleagris by his source, the Flemish botanist Rembert Dodoens, he also records the alternative Latin name of Fritillaria by which it is known today. He conjectures that the name, which is given not only to this species but to the entire genus, is derived from "the table or boord upon which men play at Chess, which square chekers the floure doth very much resemble," but also notes that fritillus may not refer to a checkered game board, but??to a checkered die-box. In his fascinating volume of plant lore, The Englishman's Flora, Geoffrey Grigson collected a number of sinister local English names like "dead men's bells" or "snake's head lily" for the somber purple flowers, but notes that these associations were not made by the Elizabethans. For a discussion of spring-blooming plants that did have??such connotations??in the Middle Ages, see "Adam and Eve and Arum" (May 22, 2009).
Although this April-flowering bulb has long been grown in Bonnefont garden, I haven't been able to confirm any medieval knowledge or use of the plant or to find a record that predates the sixteenth century. Gerard's claim that the plant had no known virtues beyond its beauty may well be correct. Guinea-hen flower, which contains a poisonous alkaloid, has no role in medicine, past or present.
???Deirdre Larkin
Sources:
Griffiths, Mark. The New Royal Horticultural Society Index of Garden Plants. Portland, OR: Timber Press, 1992.
Grigson, Geoffrey. The Englishman's Flora. 1955. Reprint: London: J. M. Dent & Sons, 1987.
Harvey, John H. "Fritillary and Martagon???Wild or Garden?" Garden History, Vol. 24, No. 1 (1996), pp. 30-38.
Mabey, Richard. Flora Brittanica. London: Chatto & Windus, 1996.
Tags: African guineafowl, alkaloid, Flos meleagris, Fritillaria, Fritillaria meleagris, fritillary, fritillus, Geoffrey Grigson, Guinea-hen flower, John Gerard, Numidia meleagris, Rembert Dodoens