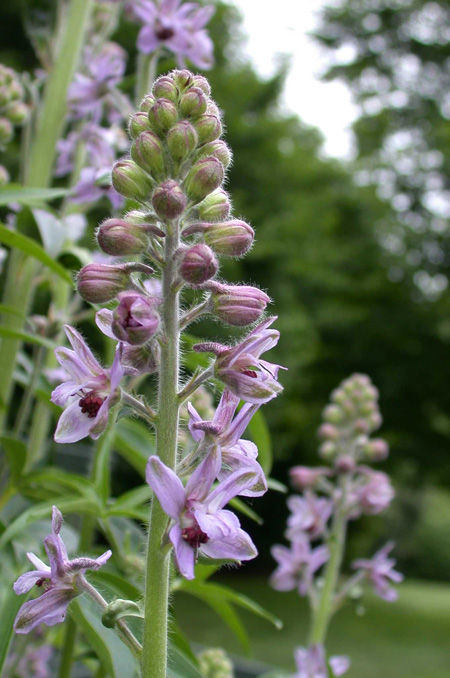 A beautiful plant related to the ornamental delphiniums and larkspurs of our gardens, stavesacre is a poisonous member of the buttercup family. Its seeds were used topically to kill scabies and lice in antiquity and in the Middle Ages. Since this Mediterranean native isn't winter hardy in our climate, seeds must be started indoors or in a cold frame; the young plants are set out once the danger of frost is past.
Stavesacre (Delphinium staphisagria) belongs to the Ranunculaceae, or buttercup, family, a large family of poisonous plants, some of which have been exploited medicinally despite their toxicity. Both Dioscorides and Pliny affirm stavesacre's effectiveness against scabies and headlice, and it was used for that purpose for many centuries. Constantinus Africanus recommends it to purge phlegm, clean the sinuses, ease toothache, and cure diseased gums, all uses discussed by Dioscorides. Constantinus also says it will remove internal obstructions; the fifteenth-century Hortus Sanitatis adds the healing of bites, and the relief of epilepsy to the list. Despite this impressive roster of cures, the risk was great. Dioscorides warned that the consumption of stavesacre in melicrate, a fermented or unfermented mixture of honey and water, could be fatal. He recommends that those who have drunk this infusion should be made to walk, and cautions that suffocation and a "burning of the jaws" were real dangers.
The Latin name of the genus Delphinium was derived from the ancient Greek, noting a fancied resemblance of the flower spur to the back of a dolphin. The curious English common name "stavesacre" is derived from Dioscorides' name for the species, staphis agria.
???Deirdre Larkin
SOURCES:
Anderson, Frank J., ed. "Herbals through 1500," The Illustrated Bartsch, Vol. 90. New York: Abaris, 1984.
Grieve, Maude. A Modern Herbal. 1931. Reprint: New York: Dover Publications, 1971.
Gunther, Robert T., ed. The Greek Herbal of Dioscorides, translated by John Goodyer 1655. 1934. Reprint: New York: Hafner Publishing, 1968.
Tags: buttercup, delphinium, Dioscorides, Ranunculaceae, stavesacre