Wednesday, August 28, 2013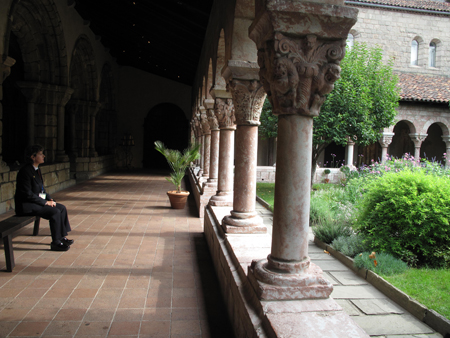 Leila Osmani, a security guard who has worked at The Cloisters for six years, gazes out into Cuxa cloister garth garden in the morning before the Museum opens. In the Middle Ages, this garden would have provided the monks with refreshment and nourishment.
In the Middle Ages the color green symbolized rebirth, life, everlasting life, nature, and spring. I think it is fair to say that these attributions hold true to this day.
The twelfth-century mystic and theologian Hugh of St. Victor believed that green was the "most beautiful of all the colours" and a "symbol of Spring and an image of rebirth." His theory was supported by William of Auvergne, who said the color "lies halfway between white, which dilates the eye, and black, which makes it contract," creating a calm sensation, especially when viewed in great expanse.