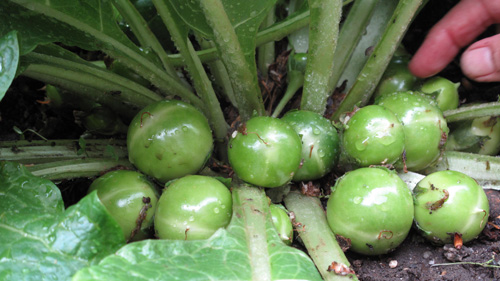 The mandrake above, which flowered in March, now bears a bumper crop of no less than twenty fruits, the largest number we've ever seen on a single plant here in Bonnefont garden. The fruits do not always ripen fully for us.?? Photograph by Carly Still
The mandrakes give a smell, and at our gates are all manner of pleasant fruits, new and old, which I have laid up for thee, O my beloved.

Mandrakes are in the nightshade family, as are tomatoes. The round fruits of Mandragora, once known as "love apples," ripen to a pale yellow in May, and develop a bewitching fragrance. While they look much like cherry tomatoes, their scent is entirely different. Fragrances are difficult to convey, but to my nose the fruit smells like a delicately spiced custard, scented with vanilla. (The complex and subtle aroma has been analyzed, and more than fifty-five chemical constituents were identified.)
In classical antiquity, the mandrake's reputation as an aphrodisiac and a fertility drug was allied to its forked root, thought to resemble the human form. In biblical tradition, the peculiar and intoxicating fragrance of the fruit bears erotic associations, as in the Song of Solomon. Mandrakes gathered at the time of the spring wheat harvest, when the plants are in fruit, are mentioned as an aid to conception in the story of Rachel and Leah (Genesis 30:14???16). In Islamic tradition, the fruits of the mandrake are also believed to arouse lust, and are known as "apples of the jinn" (spirits).
Mandrake fruit was employed with caution in medieval medicine, but it was to be smelled, not consumed. According to the Tacuinum Sanitatis, smelling the fruit alleviated headache and insomnia, although it could also stupefy the senses.
For more on mandrake and its properties, see last month's post "The Mandrakes Bloom Again," (March 23, 2012). For a discussion of mandrake fruit in biblical tradition, and a chemical analysis of its aromatic constituents, see Fleisher and Fleisher.
Sources:
Arano, Luisa Cogliati. The Medieval Health Handbook: Tacuinum Sanitatis. New York: George Braziller, 1976.
Fleisher, Alexandra and Zhenia Fleisher. "The Fragrance of Biblical Mandrake." Economic Botany 48 (3) pp. 243???251. New York: The New York Botanical Garden, 1994.
Moldenke, Harold N. and Alma L. Moldenke. Plants of the Bible. Waltham, MA: 1952. Reprinted. New York: Dover Publications, 1986.
Tags: Mandragora, Mandragora officinarum, mandrake, nightshade, Tacuinum Sanitatis, tomato