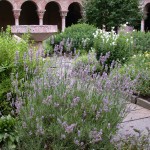 Above: Lavandin (Lavandula x intermedia) flowering in Cuxa Garden.
Lavenders in The Middle Ages
Lavender (Lavandula angustifolia ssp. angustifolia) was used to scent linen and to keep moths and insects from woolens, as it still is. According to the fifteenth-century herbal Hortus Sanitatis, or the Garden of Health, this virtue of protecting clothing from vermin endeared lavender to the Mother of God, who also loved the herb as a preserver of chastity: "If the head is sprinkled with lavender water it will make that person chaste so long as he bears it upon him." (Margaret Freeman, Herbs for the Medieval Household, 1943.)
Lavender had a number of medicinal applications as well as household uses, and could be employed against pains in the heart, fainting spells, and sleeplessness; it was applied to the forehead for headache and included in antidotes, such as a plaster for scorpion bites. It was used internally as well as externally, and a decoction was drunk for epilepsy and kidney ailments and as a preventative for apoplexy. (Frank Anderson, German Book Illustration through 1500: Herbals through 1500, 1983???4.)
Lavenders at The Cloisters
One of the two species of lavender known and used in the Middle Ages, true or English lavender (Lavandula angustifolia ssp. angustifolia) is blooming in Bonnefont Herb Garden. The other medieval species, known as French lavender (Lavandula stoechas) is a tender species that must be grown in pots in our climate. This French lavender begins to flower for us as early as March, and flourishes until June, by which time it has exhausted itself. The English lavender comes into its own as the French lavender goes out of bloom.
We grow yet another lavender that isn't medieval. The lavandin (Lavandula x intermedia 'Grosso') that flourishes in Cuxa Cloister Garden is a hybrid between English lavender and another species, L. latifolia. There are many variations of this cross in wild populations, but 'Grosso' is one of the most commonly cultivated forms and is much used in today's fragrance industry.
The two large bushes of 'Grosso' that have grown in Cuxa for some years have blue-violet flowers, but we have just planted a variety sold as 'Pink Lavandin'. The nursery label identified this, too, as a form of 'Grosso.' I don't think this can be correct, as the authoritative and very comprehensive monograph, The Genus Lavandula, doesn't list such a form. Does anyone know more about pink-flowered lavandins?
???Deirdre Larkin
Tags: Add new tag, Bonnefont Garden, Cuxa Garden, lavandin, Lavandula, lavenders