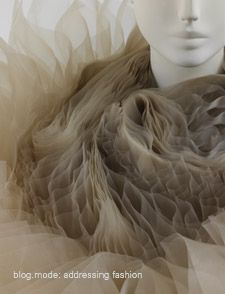 More than any other art form, fashion is an immediate expression of our zeitgeist. While painting and sculpture can seem removed from our understanding, fashion is so familiar, so ubiquitous to our experience, that it is tangible, accessible, and open to a wide range of interpretations. Individuals who might avoid publicly commenting on a canvas by Picasso or a bronze by Brancusi readily disclose their thoughts about a gown by Galliano or a mule by Blahnik. Unlike its haughty siblings, fashion—even in its most extreme and avant-garde expression—does not estrange us from the belief in the essential aptness of our judgment.
Inspired by both the immediacy and the democracy of the blog format, this exhibition is intended to provide a platform for the opinions of our visitors—both in the galleries and online. Although a number of the pieces, selected from examples acquired since 2000, have been exhibited before, many are displayed for the first time. The selection is a sampling of the range of forms and periods covered by the Museum's encyclopedic collection, but it is weighted more heavily in twentieth-century and contemporary works.
Fashion's power lies in its complete integration in our lives. Imbued with meaning, it speaks of dreams, desires, memories, and experiences. As Virginia Woolf wrote in her poetic masterpiece Orlando (1928), "Vain trifles as they seem, clothes . . . change our view of the world and the world's view of us." By opening a dialogue with visitors to the exhibition and to the blog, the curators hope to expand their own views and further the practice of fashion interpretation and connoisseurship.
To promote considered assessment of the works, the material on exhibit will be posted on the blog in random sequence. Since one of the chief aims of "blog.mode: addressing fashion" is to encourage subjective readings of fashion, we invite the more reticent visitor to take some confidence from Oscar Wilde's observation, "The highest Criticism, being the purest form of personal impression, is in its way more creative than creation."