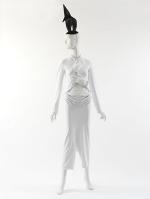 Rei Kawakubo (Japanese, b. 1942) for Comme des Garçons (Japanese, founded 1969). Ensemble, fall/winter 2007–8. White Lycra blend jersey; black synthetic velvet; white faux leather and white rubber. Gift of Comme des Garçons, 2007 (2007.382.1a–e).
Rei Kawakubo's fall/winter 2007–8 collection took the surrealist strategies of unexpected distortions of scale and uncanny displacements. The ambience was set for a show of sweetness and innocence, accessorized with Minnie Mouse hats and padded decorations like those seen on a baby pillow or a lingerie bag.
But, as it is Commes des Garçons, the childlike flourishes of little girl dresses appliquéd on the front of longer garments had a destabilizing effect. Like Alice's disorientation in Wonderland, the viewer at a Commes des Garçons presentation is never left feeling that first impressions are valid, for even an apparent prettiness can mask deeper, subliminal complexities. When the series of ensembles with padded hand motifs appeared, the ostensible playfulness of the gesture paradoxically precipitated the kind of momentary disquiet that a Schiaparelli/Dalí collaboration has never provoked.