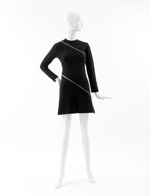 Rudi Gernreich (American, born Austria, 1922–1985). Dress, ca. 1969. Black wool jersey and silver metal zipper. The Metropolitan Museum of Art, New York, Purchase, Funds from various donors, Isabel Shults Fund, and Millia Davenport and Zipporah Fleisher Fund, 2005 (2005.261).
Rudi Gernreich was originally trained as a dancer. Often working with colorful double-knits and jerseys, Gernreich predicated his designs on the notion of the body in movement. Although Gernreich was sometimes aggressively revolutionary in his polemic, his collections invariably conveyed an attitude of youthful, forward-looking optimism. Much of his interest in boldly patterned effects coincided with the aesthetics of Pop Art, but he was also concerned with a utopian blurring of the divisions of gender, age, and class. Newsworthy designs such as his "topless" bathing suit for women, bottomless bathing suit for men, and unisex ensembles might be seen to have their basis in the philosophies of late nineteenth- and early twentieth-century social movements centered on the healthful, natural expression of the body, but in Gernreich's imagination the designs took on a space age minimalism and a no-holds-barred 1960s approach to liberation.
Like some earlier conceptualizations of futuristic dress forms, Gernreich's designs referenced classical and medieval precedents. Tunics worn with matching narrow trousers, boots, or colored hose appeared in many of his collections. In this example, only the spiraling seaming of metal zippers ornaments a minidress that could also be worn as a tunic. The zipper, especially with a large O-ring attached to its slider, was a favored modernist ornament of the time and appeared on the center front of dresses and as decorative closings on pockets. Gernreich angled the line of the zippers to introduce a spiraling dynamic to his reductive design, and, with his trademark subversive wit, suggested the possibility of the garment's ability to zip apart into narrow bands in a speedy deconstruction.