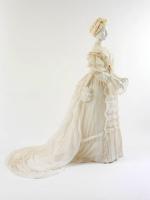 American Dress, 1872–73. White cotton mull with self-ruching. Purchase, Judith and Ira Sommer Gift, 2002 (2002.252a, b).
This summer gown represents the first period of the bustle silhouette, 1870 to 1875, which disappears between 1876 and 1881, returns in 1882, and survives in modified form until 1889. Unlike the heavily upholstered bustle of the 1880s, this gown reflects the transitional nature of the form, which derived from the umbrella-shaped crinoline styles of the 1860s. The first bustle dresses appeared to be earlier wide-skirted gowns deprived of their crinoline hoops with the resulting plenitude of fabric pulled up to the back waist creating a large pouf, or bustle.
While the new silhouette appeared to free women from the encumbrance of the earlier hoops, the skirt still required a framed support. The crinoline simply became more cylindrical and was structured to align closer to the front of the legs and pull away from the body at the back. Commonly, bustle pads—small pillows, wire coils, even rattan croissant-like baskets—were attached at the waist to accentuate the buttocks and support the volume of the hoop and skirt. The fragile airiness of this mull gown belies the rigorous constraints of the corset and the engineered structure of cantilevered hoops and false bottoms that created its silhouette.