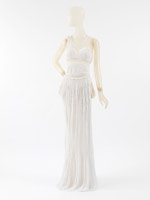 Helmut Lang (Austrian, b. 1956). Evening Dress (detail), fall/winter 2004–5. White mushroom-pleated silk organza, white silk chiffon, and natural horsehair. The Metropolitan Museum of Art, New York, Gift of Mr. Helmut Lang, 2006 (2006.76).
Helmut Lang designs accrued "street cred" because their uncompromising modernism was also informed by the edginess of the urban demimonde. Sharply tailored with an astringent aesthetic, Lang's clothing was often constructed of high-tech or unconventional materials. His collections were variously cited as minimalist, deconstructivist, and, on occasion, brutalist.
With this design, Lang combines references to two precipitating strands of the early modern movement—primitivism and classicism. Other designers, from Alix Grès to Azzedine Alaia, have paired tribal and Greco-Roman details in one ensemble, but Lang's conflation literally layers, rather than merges, his evocation of sources with Hellenic and African effect. In a typical expression of his "raw and cooked" methodology, the designer juxtaposed coarse natural horsehair with finely pleated silk organza and silk chiffon.
"This dress was a made-to-measure piece created for "Scéance de Travail," autumn/winter '04–'05, a collection that has a number of influences from Central and Eastern European culture. The horsehair circle, front panel, and fitted top are derived from the representation of reduced key components of the local folkloric costume—skirt, apron, and corset."

—Helmut Lang