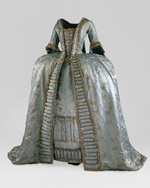 French Dress (Robe à la Française), ca. 1765. Pale blue silk satin with hammered silver floral brocade and silver bobbin lace trim. The Metropolitan Museum of Art, New York, Purchase, Irene Lewisohn Bequest, 2001 (2001.472a, b).
This court gown is said to have come from descendants of one of Queen Marie Antoinette's Austrian ladies-in-waiting. As with most gowns of this type, there is a hidden economy in its construction. The petticoat, or underskirt, appears to be constructed of the rich brocade seen on the bodice and overskirt. However, a wide yoke of blue chintz is inserted to the upper sides and back of the petticoat and restricts the costly brocade to the areas where it is visible.
Costume historians have seen the lavish plenitude of handwoven silks consumed in the design of such gowns to be an explicit pronouncement of wealth and status. In addition, the nature of the gown's construction, its tightly fitted and corseted bodice, and the wide expanse of its skirt dictated the privileged woman's movements and imposed a number of challenges. The management of an eighteenth-century gown in as simple an act as sitting down "could highlight a person's physical grace," according to the historian Mimi Hellman, but it could also "expose the imperfections of the ungainly body." From this perspective, the gown was not only a pronouncement of elite membership; it was also an instrument that tested a woman's worthiness for society through the graceful choreography and negotiation of her dressed body.