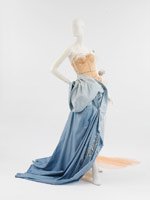 John Galliano (British, born Gibraltar, 1960) for Christian Dior Couture (French, founded 1947). "Creation" Ensemble, fall/winter 2005–6. Beige silk satin, white polyester batting, nude synthetic net, beige cotton braided laces, blue pieced silk with chenille, rhinestone, hammered silver metal, filé, and bead embroidery à la disposition; white leather; beige nylon, polyester batting, and silver metal and pearl hardware with knotted blue silk ribbons. Purchase, The Dorothy Strelsin Foundation Inc. Gift, 2006 (2006.22a–d)
"Creation" exemplifies John Galliano's articulated interest in exploring, at the time of his fall/winter 2005–6 show, "the construction of haute couture." Like the other gowns in the series of designs that closed his presentation, this dress appeared as a garment in the process of becoming. The natural muslin bodice, patterned after the cuirasse bodice of the 1880s, suggested the Stockman tailor's forms on which couture dresses are worked. Layers of different fabrics—the rich blue silk embroidered à la disposition, interfacings, linings, and tulle—are attached provisionally to the corset support and suggest the initial stages of the design process.
The generally hidden interior details that marked the elaborate constructions of couture gowns in the 1950s, such as grosgrain waist tapes, bust pads, and tulle underskirts, are exposed and transformed into the decorative elements of the dress. Structure, therefore, becomes ornament. In a Surrealist displacement, the humble pincushion worn by fitters and sample hands of the atelier is transfigured into a bracelet when shown on the runway. A similar reassignment of function occurs when Galliano shifts a padded bra cup from the bust to the hip. It is a knowing but ironic reference to Christian Dior's "New Look" silhouette, which relied not only upon the cinching of the waist but also on the padding of the bust and hips to establish a more pronounced curvilinear silhouette.
From Mr. Dior to my tenure at Dior…this look is taken from the couture collection we did to celebrate the hundredth anniversary of Mr. Dior's birth. For this show we took different sections, defining moments, from Mr. Dior's life: Granville, his mother, his love of the arts, his clients, and, of course, the "New Look." This particular look came from the construction phase, where Mr. Dior would work with "his flowers": his models Victoire, France, and Lucky.

This dress shows the process of construction not deconstruction. What sets couture apart from ready-to-wear is the ateliers, the workmanship, and the amazing attention to detail—nothing is impossible and imagination becomes even more beautiful. For this look I wanted to show the magic of the draping on the form, how the block to the toile to the final gown is created, and all its stages in between. We did lots of "X-ray" fabrics, worked with tulle so you could look through and see—and appreciate as well as understand—all the layers of construction.

For me it is the moment when it comes together and the sketch takes shape, comes to life, that is the most exciting bit. This look is kind of a freeze-frame mid-magic, between the block and becoming the belle of the ball, and becomes something very intriguing and beautiful in its own right. Beauty is in the eye of the beholder after all, and for me beauty is understanding the process, the care, and the craft that creates the magic—that to me is true couture.

—John Galliano