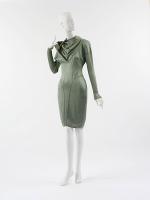 Azzedine Alaïa (French, b.  Tunisia, 1940). Dress, fall/winter 1986-87. Light green rayon knit. Millia Davenport and Zipporah Fleisher Fund, 2007 (2007.82).
Azzedine Alaïa is a designer enamored of the challenges inherent in the transformation of the two-dimensional textile into the sculptural three-dimensional garment. In his atelier, it is not uncommon for the creation of a pattern, or the evolution of a textile, to gestate for months or even years. One of the beauties of his work is the ability to observe the steadily honing advancement and refinement of concepts and techniques in each collection. No other contemporary designer is as focused on the study and transcendence of the great masters of the past.
This short hooded sheath is from a series of knitted dresses and gowns Alaïa produced in the 1980s that are among his most famous early works. Although this rayon knit, with its elastic nature, is ideal for body-conforming styles, Alaïa, by introducing his carefully engineered flat seams, further controls its stretch to establish a glove-like fit and support.